Brattle Square Florist has moved !
After over 100 years Brattle Square Florist has moved to its new permanent home at 52 Brattle St
Cambridge MA Flower Shop and Boston Metro Florist
Located in the heart of Harvard Square in Cambridge, MA, our flower shop has been delighting customers for over 100 year.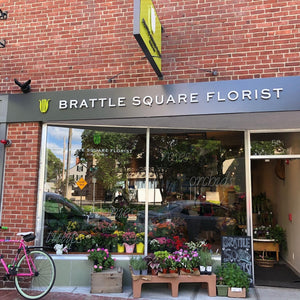 We deliver Bouquets, Floral Arrangements, Orchids and House Plants to Cambridge, MA, Boston MA and surrounding cities.
Visit our store for the largest selection of fresh cut flowers, orchids and house plants.

Reach us by phone: 617-876-9839 or by email: rricker@brattlesquareflorist.com
We are open 7 days a week, 363 days a year (Closed Christmas Day and New Years Day)
Monday 8am-6pm
Tuesday 8am-6pm
Wednesday 8am-6pm
Thursday 8am-6pm
Friday 8am-6pm
Saturday 8am-6pm
Sunday 9am-5pm
All poducts are subject to seasonal availability. We will come as close as possible to the pictured item if certain flowers are unavalible we will substitue with flowers that are similar.